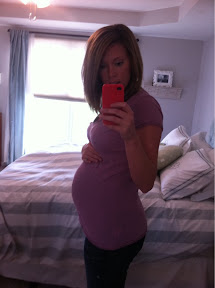 Size of baby: 3lbs 2oz said the ultrasound!
Maternity Clothing: oh yes.
Gender: Still a girl!
Movement: Lots!
Sleep: Hasn't been bad, the Boppy pregnancy pillow has been a life saver again!
What I miss: It's getting harder to hold Log on my lap because of my belly so...I miss that!
Cravings: Just food in general. Always. Hungry.
Symptoms: A little heartburn...
Best Moments: Seeing her little face in the ultrasound at my apt this week
- Posted using BlogPress from my iPhone